Money IS the mother's milk of polictics.  Why?  We face a well-funded and full time PAID adversary.  Check out our new online donation site here  Consider this for a moment:  When only 20% of Marion County's registered Republicans decide to kick in  a mere $4.00 a month the MCRCC will have:

A full time staffed office
A year around phone bank
Paid crews knocking on doors and registering voters (as the Democrats do)
A full time presence in the Capitol during legislative sessions
The power to elect conservative Republicans to county and state office

And the best part?  That $4.00 is free!  The Oregon Political Tax Credit will offset the entire cost of funding the Fight for Freedom.  Is Life, Liberty and the Pursuit of Happiness worth a $4.00 per month outlay that will be completely refunded at tax time?


MCRCC's table at the Salem Gun Show a couple of weeks ago was a resounding success.  Talking with attendees reinforced the importance of informing the voting public regarding legislation in Salem as a number had not yet heard of the Democrat's massive gun grab bill, HB 3200. 
A summary of our activities:

Castle Doctrine signatures = 221
PCP applications = 2
New Voter Registrations = 2
Conversions from D to R = 1
New Contacts for MCRCC = 32
A net profit of $126.50

A big thanks to Jeff Heyen for securing our spot, to Denise Quinn Nanke for swag, and Janna and Ryan Medina, Ben Nanke, Craig Cawelti, Stacey and Benjan Rejaian, Davis Dyer, Courtney Goode, Sarah Dressler, Braeda Libby and again, Jeff and Denise for staffing the effort.  The Marion County Gun Show Mascot sticker is still available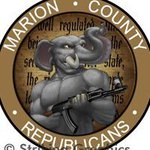 We have a sponsored table (no cost to us) for the GPAA Gold & Treasure Expo, 3/29 and 3/30 at the Oregon State Fairgrounds.  Gold prospectors are a fertile field for potential political activism.  The Democrat legislators in Salem are seeking to close off all lands to gold mining, essentially putting Oregon miners out of business.  A few of us attended the Miner's Rally on the Capitol steps and Karen and I followed up with them at a dinner afterwards.  This will be an educational outreach into a segment of our population who could be devastated by liberal land grabbers.  It's our hope to make it clear that our Republican legislators support private land use.  Look for a sign up schedule soon.


Scheduling difficulties (not the Ginny Burdick variety) forced the postponement of a Marion County March breakfast meeting.  We are however, confirmed for the morning of April 3.  Our speaker will be newly elected Chair of the Oregon Republican Party, Suzanne Gallagher. 




NationBuilder is our new communications platform and will allow us to communicate simultaneously through email, text message, Facebook and Twitter.  Look for regular updates!


Filing deadlines for school, fire and water boards is quickly approaching on March 21st.  Consider running for a position near you or if you know of someone who would be a conservative voice on a board, encourage them to run.  The MCRCC will endeavor to provide support to any Republican willing to serve the public's interests.  Information on how to file here


Coffee & Politics tomorrow at the Broadway Coffee House around 7ish.  We'll socialize and strategize until 8:00 at which point we'll dig into NationBuilder and see how Marion County may leverage its power.


Follow Marion County Republicans on Twitter and join the conversations on Facebook.  The Marion County Republican PCP group is here

Toward Life, Liberty and the Pursuit of Happiness,



David Darnell
Chairman-MCRCC
[email protected]


Do you like this post?